1855 – Nightwatch is established in the Village of Jamestown with the primary responsibility to watch for fires.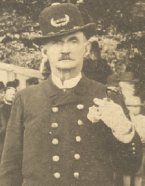 1886 – The village of Jamestown became the City of Jamestown. An editorial in the "Jamestown Evening Journal" of April 16, 1886 stated, "In selecting a Chief of Police, a man should be chosen who will do something towards suppressing rowdyism in the streets in the evening." James Murray was appointed Chief of Police and the force size was set at 6 officers.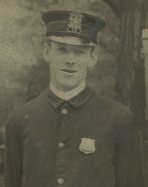 1915 – Officer George Kendall became the 1st and only member of the Jamestown Police Department to be killed in the line of duty. Officer Kendall and his partner responded to a report of a double shooting over the Majestic Theatre. Kendall was shot twice by a drunk and angry Fred Shaver who had earlier killed his father and step-mother.
1999 – Drug Enforcement Officer David Mitchell was critically wounded in the line of duty. Mitchell was shot in the face upon his arrival at a scheduled meeting with a known drug informant. Unbeknownst to the drug informant, Sergeant Scott DePietro had accompanied Mitchell and was able to return fire and call for emergency medical assistance for David. Officers from across the southern tier responded to the scene and the perpetrator was captured a short time later without further incident. Officer Mitchell continues to undergo medical treatment as of this writing. Sergeant DePietro and Officer Mitchell were awarded the department's Medal of Valor for their actions that day.
Today the department is under the command of Chief Tim Jackson with a force strength of 620officers divided into two divisions: Patrol and Investigative.
More Images Of The Past
These Images Provided By The City Of Jamestown Police Department
JPD Police Car getting final details before being placed into service -1955
A Police Officer And His Car On Main St @ Tracks
Police Officer 1955
2nd Street @ Pine St
A Roll Over accident South Main @ Cole Ave
Traffic Control 4th St @ Main St
Fire Station 1950